Under the Sustainable Development Goals, the world is falling behind on its objective of achieving universal access to clean water and sanitation by 2030. Making water and sanitation utilities financially feasible, especially in poor nations, is one of the most difficult issues in providing universal, long-term access to clean water.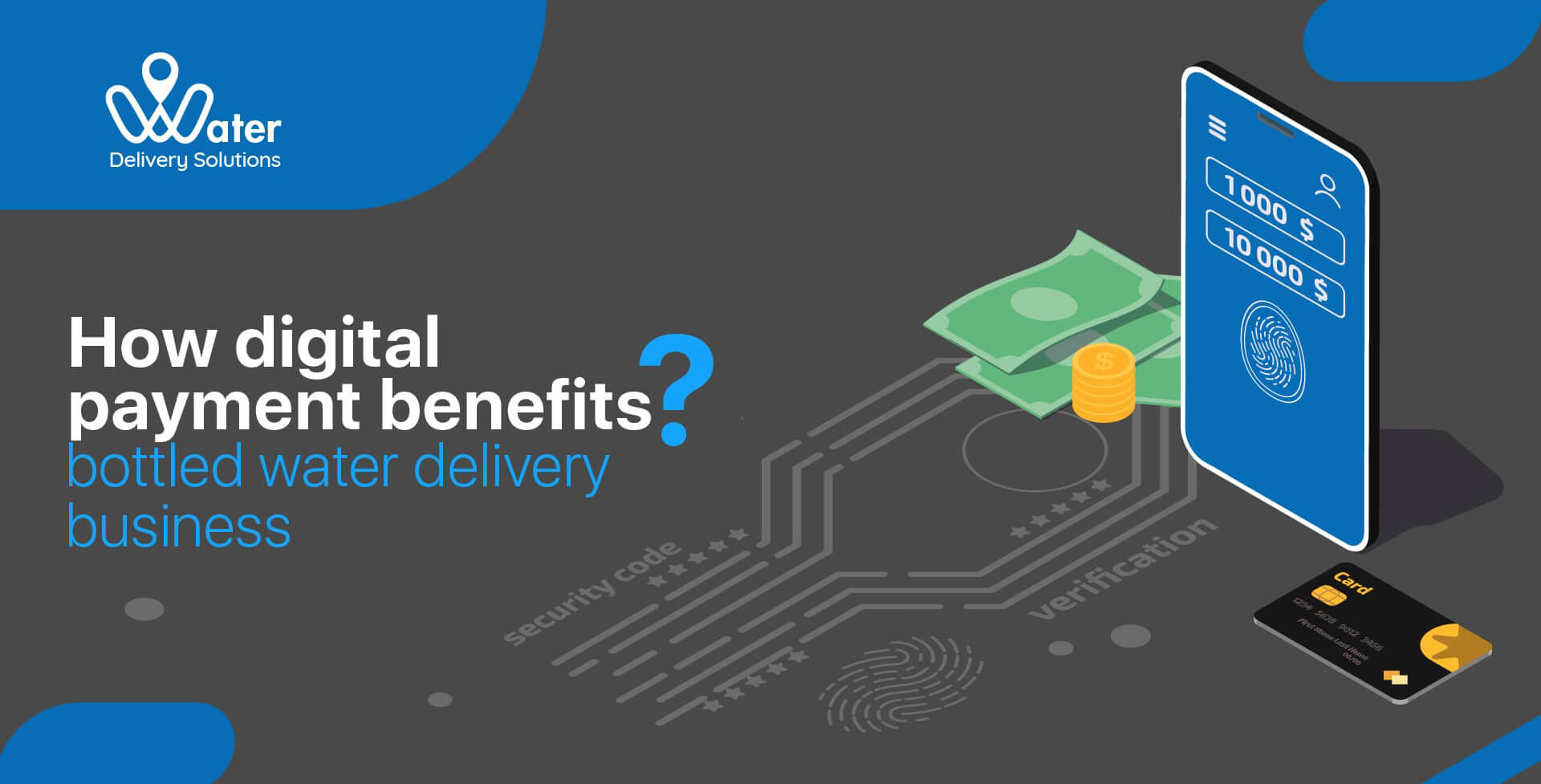 Many businesses are keeping their water delivery business accessible to the people via mobile apps so that they can order accordingly. The reachable areas have the facilities of delivery of water bottles or cans. Bottled water delivery businesses are keeping customers in mind and optimizing the services as per their needs. 
With the help of a customer app, they are providing easy options to order. Also, Organizations often consider payment to be simply another consumer touchpoint, but technological advancements have proven that digital payments provide a plethora of chances for businesses to expand quicker and more efficiently.
Immediate Payments
Everyone is struggling with jobs, relationships, finances, health, and a variety of other issues. The traditional technique is a demanding and frantic process because it is typically slow and time-consuming. The electronic payment system avoids turmoil as they are speedier and more straightforward, such as credit cards, e-cash, etc.
Electronic payments can be made from anywhere using an electronic payment app, eliminating the need to visit a bank and saving time and energy.
Contactless
People avoided personal interaction because of the Covid-19 outbreak, which raised the demand for contactless financial transactions.
To prevent human contact, electronic payment uses POS terminals and QR codes; in this approach, the payee holds the mobile phone near the terminal, and the payment is completed electronically.
Better User Experience
A company must attract customers by improving the user experience. Electronic payment is a cutting-edge technology that provides a better user experience in terms of a smooth transaction, eliminates hurdles to purchasing such as long lines or a limited quantity, has no additional costs, and so on.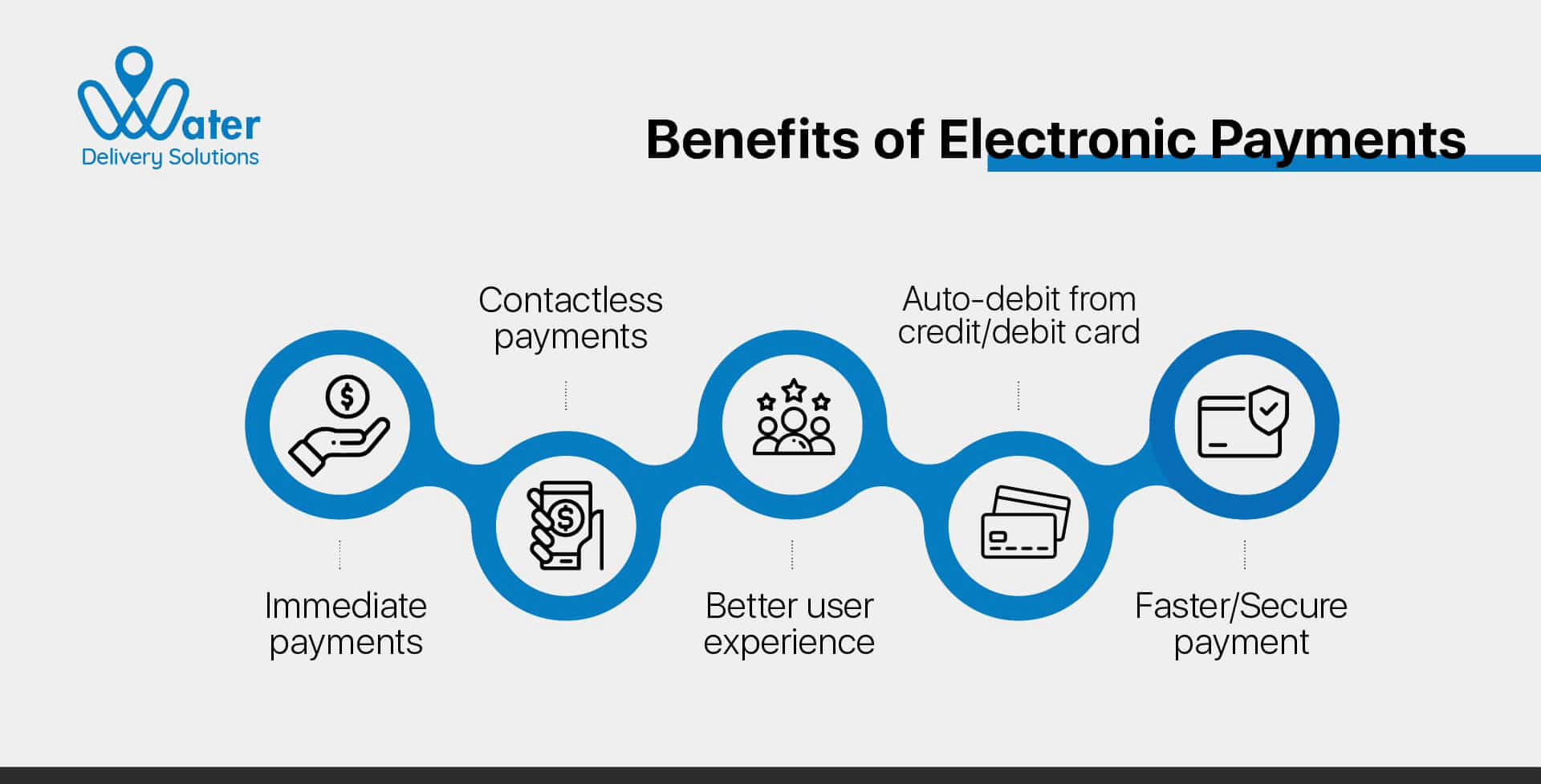 Some more benefits:
Helps in maintaining a positive cashflow

Fewer customers dispute 

Customers convenience 

Automatic payment reconciliation 

Automatic payment reminders

Auto debit via credit card/bank account

Easy refunds

Easy bill verification for customers

Easy accounting for commercial customers 
Electronic payments are significantly more efficient and secure than paper-based equivalents. Payment tokenization, encryption, SSL, and other security features are available in e-payment methods and systems.
The majority of businesses (64 percent) desire to make more electronic payments and become paperless bottled water delivery businesses, but the largest roadblock for many is suppliers' readiness to accept e-payments and their employees' capacity to contact and enroll vendors. It's also vital to find an AP automation solution that includes supplier enablement. Supplier services eliminate the time and effort of enrolling vendors, allowing you to expand your electronic payment procedures and realize more benefits.
He loves to explore. His passion for helping delivery industries in all aspects flows through in the vision he has. In addition to providing smart solution to make delivery process flawless, Ravi also likes to write sometimes to make it easier for people from business industry looking for digital solutions.