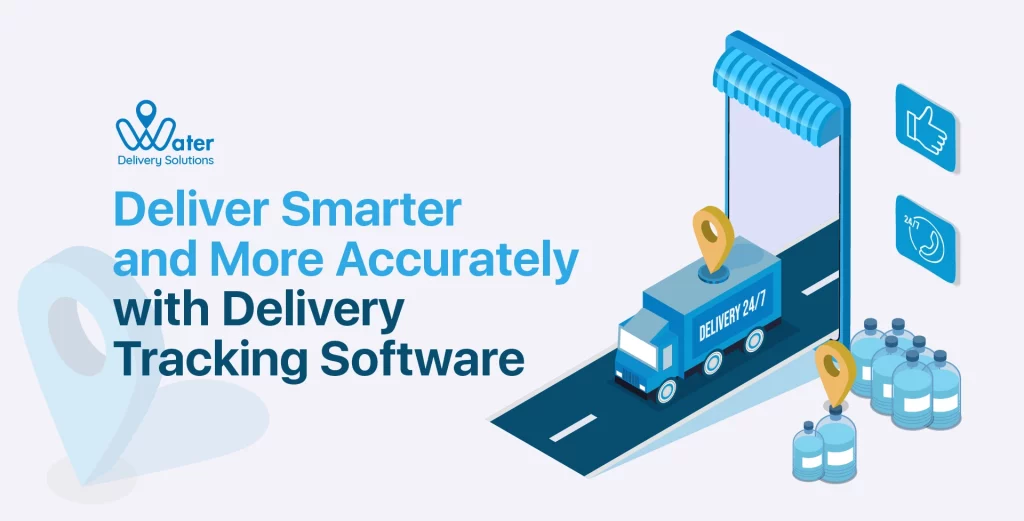 Delivery tracking software is an integrated suite for managing and tracking deliveries to make the process efficient and productive. The software can easily track deliveries, optimise the route, manage inventory, order fulfillment, and auto-assign and dispatch.
Integrating the software with a bottled water delivery business automates and streamlines operations making deliveries efficient, reducing overall head operational costs, and improving customer experience.
In this blog, we'll discuss what ‌delivery tracking software is and how it helps in making deliveries smarter and more accurate.
Significant features of this software that optimise business operations:
Automated order management starting with order acceptance till order fulfillment
Auto-payment management – Auto-generated invoices, online payments, payment reminders
Route-optimisation- Auto-assign drivers and auto-dispatch, optimise the route, ETA, and real-time tracking
Inventory management – inventory report (includes details of the amount of current inventory, the total amount required, and extra inventory to be procured to fulfil the customer demand)]
Three main components of delivery tracking software
Vendor Panel
The vendor panel is an online platform for business owners to track and manage the operations of their businesses. The software automates and streamlines the business giving vendors end-to-end visibility of the entire business. It is a vendor website that can be accessed with a login ID and password.
Features of a vendor panel:
Order management and order tracking (one-time and subscription orders).
Track delivery agents with GPS
Check the task status of the delivery agent
Send automated payment reminders
Tracking feedback from customers
Track and manage empty water bottles
Customer App
It is an online ordering platform for customers from where they can place their orders, track them in real-time, and make payments. Customers can also give product and service feedback and suggestions. The platform makes the ordering process simpler and improves customer satisfaction. The customer interface is available as a website, Android and iOS applications.
Features of a customer app
Live order delivery tracking
Scheduled and subscription-based deliveries
Real-time communication
Flexibility in payments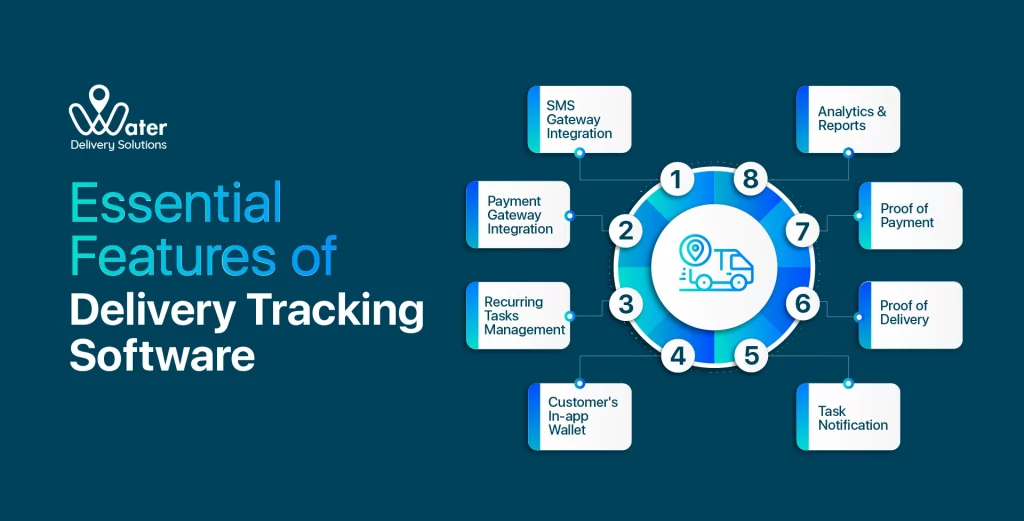 Driver Application
The driver app is an interface for delivery drivers where all order and delivery details are given and according to which the driver delivers. The driver app is only available on Android.
Features of the driver application
Automated order dispatch
Navigation service
Acquire new customers
Create new orders
Manage empty water bottles
Additional features of delivery tracking software
SMS gateway integration
Multiple payment gateway integration
Recurring tasks management
Customer's in-app wallet
Task notification
Proof of delivery
Proof of payment
Analytics and reports
The benefits of using delivery tracking software:
Using the software automates and streamlines business operations, reducing operational costs, and improving the business's efficiency.
Automated order assigning and despatch guarantees fast and accurate deliveries, which increases customer satisfaction.
The software auto-generates notifications and payment reminders that make sure that customers pay on time and promote positive cash flow.
The platform gives vendors end-to-end visibility and tracking of their business, which gives them complete control over business operations.
The platform is inexpensive and easy to use. It improves customer user experience and satisfaction.
Using delivery tracking software, businesses can streamline their entire operations and speed up deliveries, enabling them to serve more customers simultaneously. Doing so allows businesses to focus on other important aspects of the business, like scaling and expanding. The software generates reports based on past numbers that can be analysed and used to strategise future business plans. If you are also looking forward to streamlining and optimising your bottled water delivery business, book a meeting with our industry experts to see how we can help your business grow.
He loves to explore. His passion for helping delivery industries in all aspects flows through in the vision he has. In addition to providing smart solution to make delivery process flawless, Ravi also likes to write sometimes to make it easier for people from business industry looking for digital solutions.