As the demand for doorstep delivery service and bottled water delivery has increased, managing fleets has become increasingly crucial for bottled water businesses. 
Water delivery software is an automated platform that streamlines the delivery process and ensures on-time and accurate deliveries. With this system, businesses can monitor the delivery vehicles and drivers in real-time, gaining insight into drivers' performance.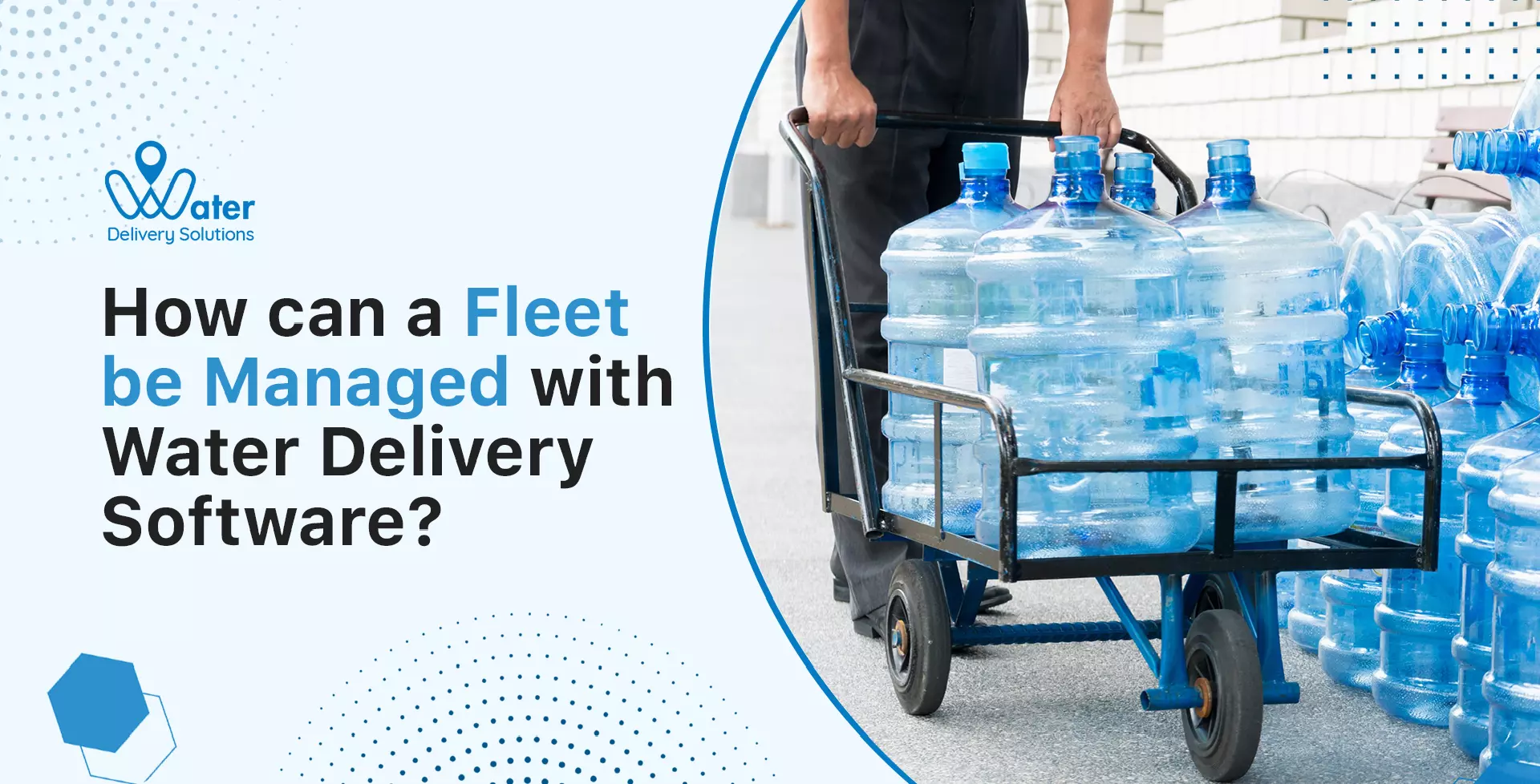 Automating the delivery workflow increases efficiency and reduces the chances of errors and miscommunication. 
According to a study by McKinsey, "data analytics can reduce the fleet cost by 12%." 
In this article, we'll discuss how you can manage your fleet with water delivery software. 
Ways to manage fleet with bottled water delivery software
Auto-route optimisation– The business owners can create routes and assign routes to particular drivers. Then they can either optimise the delivery route date-wise or use master route optimization. The businesses can change the route for a specific date with auto-route optimisation. Master route optimisation is a premium feature of bottled water delivery software that optimises the entire route. The sequence of delivery addresses is auto-updated as the admin optimises the route from the admin dashboard. The defined order delivery sequence and maps help in delivering the orders on time and prevent drivers from losing track. Water delivery software gives complete control and allows businesses to manage their businesses from a single platform (admin panel).  
Live driver tracking- The businesses can track delivery vehicles and drivers in real-time. With customers expecting not only fast deliveries but also wanting to know the estimated time of delivery, automating the delivery process is crucial. The software's real-time tracking gives insight into time delivery updates & Estimated time of delivery. The businesses can also track the drivers' performance and vehicle usage.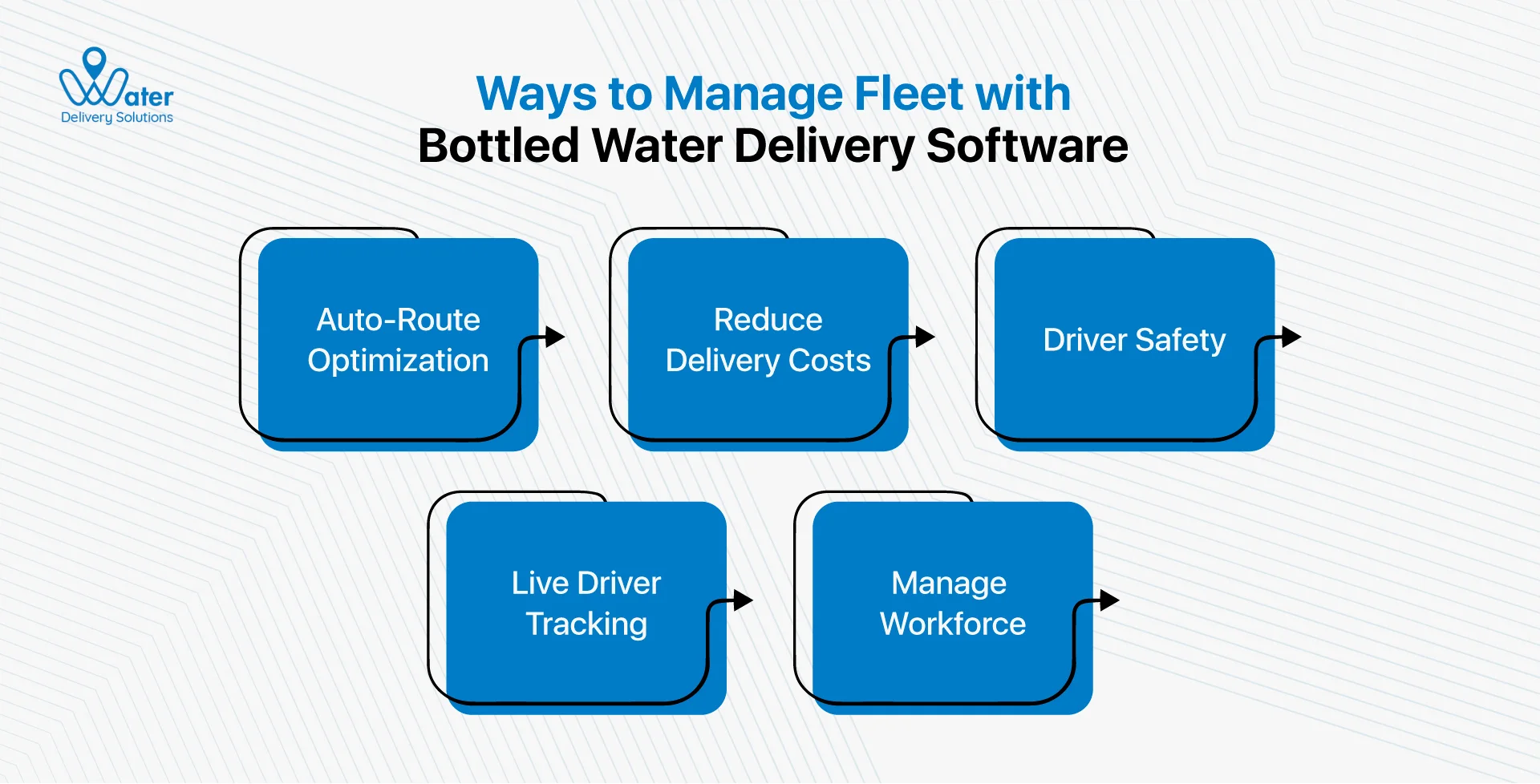 Driver safety- Businesses can monitor a driver's location in real-time to ensure deliveries are going smoothly and that he is not stuck. As a result, drivers are safer, and trust and retention rates are higher. 
Optimises delivery costs– The software streamlines the delivery process and makes it creates the shortest delivery path that helps in managing finances and reducing the total turnaround time and cutting fuel costs. The water delivery software ensures fast, accurate and cost-effective deliveries. 
Manage workforce efficiency- Businesses can get complete visibility and control over the activities of the driver with water delivery business software. The sense of control over the drivers' daily work helps increase job satisfaction and efficiency at times of shortage of manpower. The software not only streamlines the delivery process but also allows businesses to track drivers' log history.
Water delivery software is an integrated suite that helps manage and operate fleets efficiently. The system maintains the entire fleet management and reduces overall delivery costs which would otherwise be very expensive.
Looks interesting? If you are keen to know more about water delivery software and see how we can help automate your water delivery business: Talk to Our Experts
He loves to explore. His passion for helping delivery industries in all aspects flows through in the vision he has. In addition to providing smart solution to make delivery process flawless, Ravi also likes to write sometimes to make it easier for people from business industry looking for digital solutions.