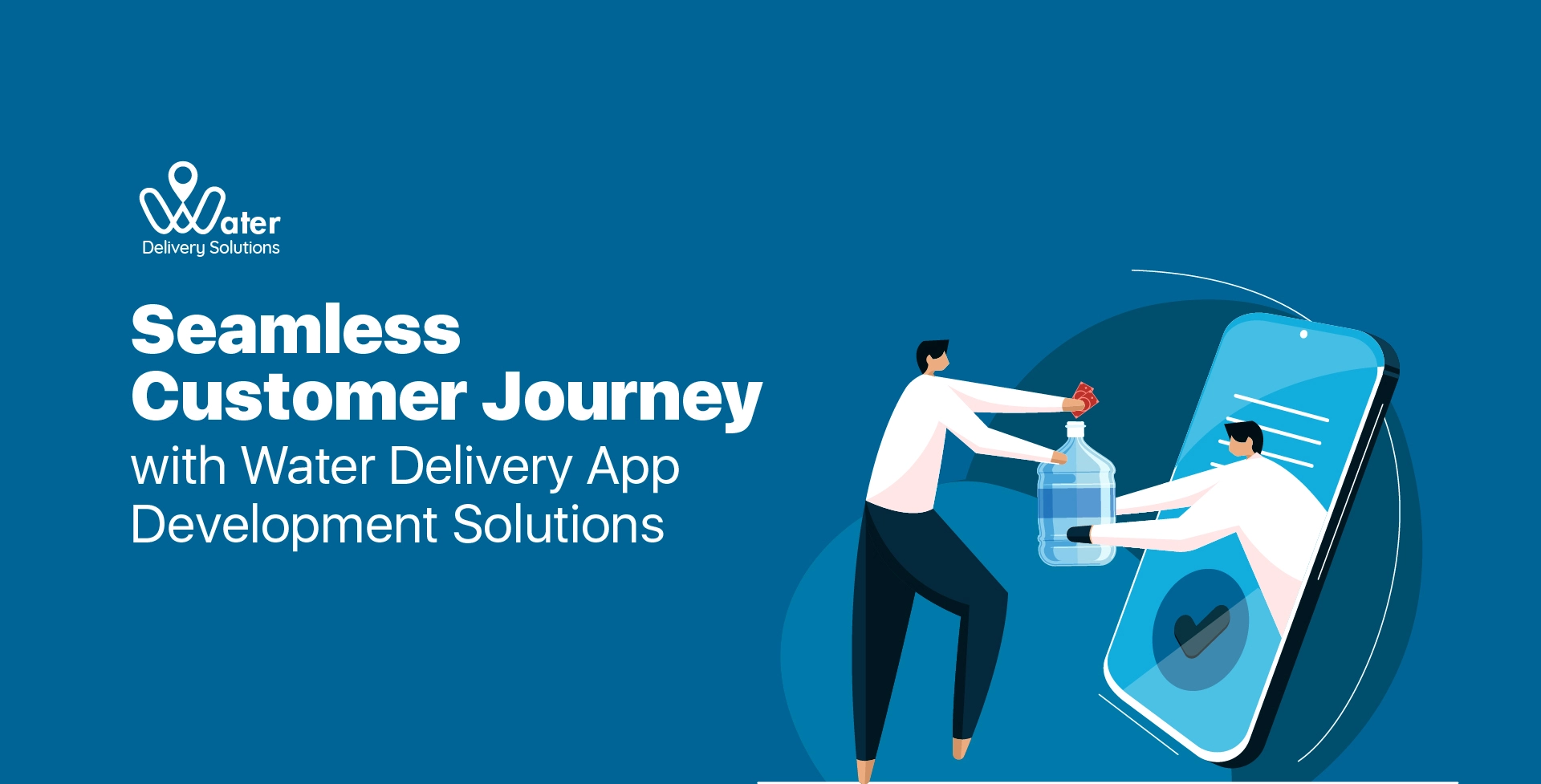 A business's customers are its backbone, and they can either help it grow or destroy it. This makes it important for businesses to provide customers with a satisfying experience. A study by CMSWIRE shows that US companies lose approximately $1.6 trillion annually due to poor customer experience which causes customers to switch to competitors.
In fact, studies suggest that depending on the industry you are in, acquiring a new customer can cost five to seven times more than retaining an old one. And the bottled water delivery business is no different. 
In this blog, we'll dive into how water delivery app development solutions can help you create a seamless customer journey. 
Bottle water delivery application is an integrated online platform that consists of three components- an admin panel for the business owner, a customer interface for customers to place orders, and a driver application for drivers. The customer interface and driver application work in synchronisation with the admin panel and any changes on either platform are reflected in the admin panel. 
Create a seamless customer journey with our water delivery app development solutions
Customer application
The software offers a customer interface that allows customers to place, modify and cancel their one-time or subscription orders for water bottles. Customers can choose their preferable schedule from the predefined schedules provided by the vendor. Offering an easy ordering platform removes the hassle of ordering via call or Whatsapp and improves customer experience by increasing the customer satisfaction score (CSAT). The placed orders are auto-updated on the admin panel which mitigates the chances of human errors while taking orders.     
Real-time order status
Customers receive real-time order status updates as their water bottles are picked, packed, assigned, dispatched and delivered. This keeps customers aware of their orders and lets them know if the order gets late. Research by Salesforces says that if the business offers a good customer experience, 78% of customers will do the business again even after a mistake." Therefore, effective communication with customers plays an important role in improving the customer retention rate which can be achieved using delivery software.    
Order summaries and invoices
The software auto-generates order summaries and invoices which mitigates the chances of errors. The order summary and invoice are sent to customers via email or SMS. They can also access them directly from the application. Past summaries and invoices can also be accessed from the application. The invoices are linked-based. Customers can pay their bills directly from that link which increases the customer experience and improves the net promoter score (NPS).  
Live tracking and ETA
The customer application allows customers to keep track of their water bottles in real-time. It is possible for customers to make themselves available for order pickup, which enhances the customer experience, unlike unaware deliveries. The system calculates the distance and generates an estimated time of arrival (ETA) that provides customers with the approximate time at which the order will reach their doorstep.   
Flexible payment methods
Customers can pay their invoices both online and in cash. The solution offers multiple payment integrations like Paypal, Paytm, Stripe, Sagepay or Trustpay, debit cards and credit cards. It also has a feature that allows delivery drivers to enter the cash amount received by the customers on the driver app which is auto-updated on the admin panel. Offering flexible payment modes allows customers to pay anytime and from anywhere which improves customer satisfaction and improves cash flow.   
Automatic notifications
The system sends notifications that are either manually or auto-generated. These notifications are sent to make customers aware of any new offers or about their water bottle orders. The system also sends reminder notifications for pending payments and low-balance reminders. These reminder notifications ensure that customers pay their invoices on time and avoid the suspension of their subscriptions which improves the experience of the customers and improves positive cash flow.   
Water delivery app development solution is a great tool to build a happy and loyal customer base, improve customer retention rates and minimise customer churn rates. According to the 4th Edition State of the Connected Customer by Salesforce, "89% of the customers are likely to make repeat sales after a positive shopping experience." Happy and satisfied customers not only tend to make repeat sales but also bring referrals that help in customer acquisition. Book a Call with our industry experts to see how our water delivery solutions can help your business and boost the user experience to improve your net sales.
He loves to explore. His passion for helping delivery industries in all aspects flows through in the vision he has. In addition to providing smart solution to make delivery process flawless, Ravi also likes to write sometimes to make it easier for people from business industry looking for digital solutions.