What if dispatch management became a piece of cake?
What if you could save hours of driving time each week by using automated routing? 
What if you could quickly keep your clients informed about the status of their orders by email and text?
With water delivery solutions, you'll have access to industry-leading route management solutions. You can save money, govern operations, and, most importantly, provide better service to your consumers by using an intuitive design, strong mapping tools, and drag-and-drop capability.
As you know, In the water delivery business every second you add to each step can delay deliveries by hours and reduce profitability due to inefficient use of available resources. Water delivery scheduling software eliminates guesswork by automating the core delivery process i.e. Dispatching of Orders.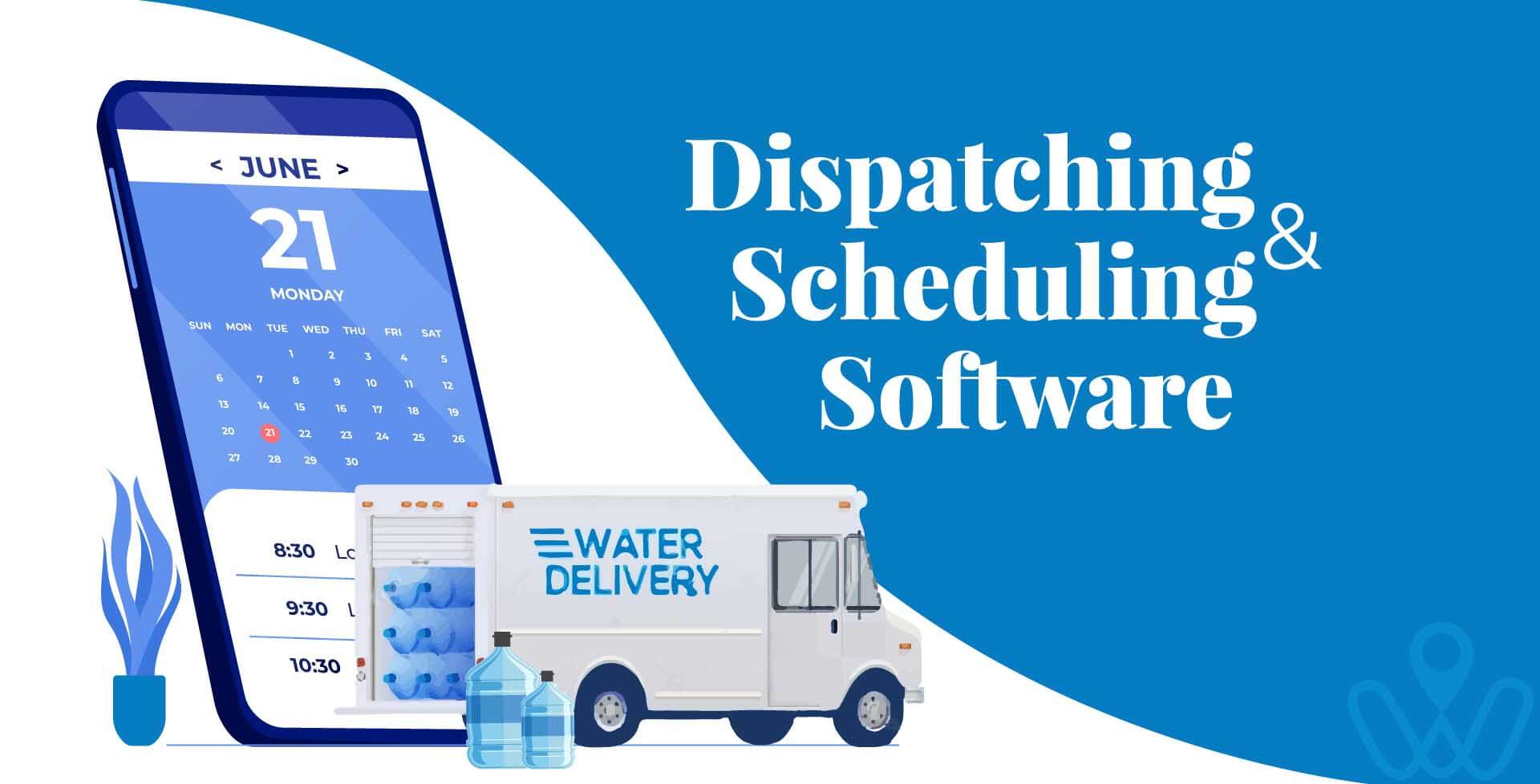 This is a single platform that integrates robust features such as automated and intelligent scheduling, GPS tracking, and electronic delivery confirmation, making the entire process completely transparent and efficient.
This software can also be integrated with telematics devices to track location via GPS and provide additional information on route-based insights, availability of water bottles, and adding new customers.
Dispatching and Scheduling Software Importance:-
For water delivery companies with a large number of vehicles distributed across multiple regions, it is important to efficiently dispatch drivers to optimize delivery and streamline operations. To do this, you need to track your fleet in real-time, stay connected, and make room for last-minute cancellations and reschedules. 
Auto assigning and tracking is very valuable in this situation. Increase transparency and better manage your vehicles through an integrated platform for delivery planning, scheduling, and tracking. 
With our delivery scheduling software you can make the dispatching process faster and more efficient by arranging deliveries according to predefined parameters. You can also optimize route planning and driver planning to improve freight carrier performance, reduce delivery lead times, and reduce last miles. 
As a result, customer satisfaction will improve. This is the key to our competitive advantage in this area. It can also increase productivity and reduce staffing requirements for each task, allowing managers to focus on other areas that require human effort.
Main Features of Dispatching and Scheduling Software
Automatic acceptance & assignment of New Orders 

Real-time Tracking of Water Deliveries

Optimization of Route for Delivery

Customer Mobile App for instant Rescheduling & Cancellation 

Automatic Notification for Real-Time Status Updates 

Digital Proof of Shipping and Delivery to customers, drivers, admin.

Easy-to-Understand Business Intelligence, visual diagrams, and customized reports
Stop wasting time arranging multiple drivers for assignments individually. Instead, utilize a smart solution that is user-friendly and easy-to-use scheduling software to bulk-schedule numerous drivers and their vehicles. You'll even be notified if there are any scheduling conflicts so you don't deploy employees or resources to two assignments at once.

Sign up for free trial
Vehicle Routing & Scheduling to improve Door-step Delivery for
your water business. Signup for free trial.
Conclusion:
For the smooth functioning of the water delivery business, we definitely need dispatching and scheduling software. It saves us time with its advanced features such as automatic acceptance, real-time order tracking, route optimization for faster deliveries, digital proof of delivery, etc., and gives us more time to focus on other business opportunities.
WDS provides you with cutting-edge logistics solutions that enable you to digitize and improve your water bottle dispatch operations. We've built a highly configurable platform that's sure to increase your profitability and client experience, from automated scheduling to efficient route planning. If you want to improve your fleet's transparency and efficiency, join up for a brief demo to learn more about how our delivery scheduling software may help you.
Hope You Enjoyed the Read!
He loves to explore. His passion for helping delivery industries in all aspects flows through in the vision he has. In addition to providing smart solution to make delivery process flawless, Ravi also likes to write sometimes to make it easier for people from business industry looking for digital solutions.